Cancer Comfort Sewing Group
Our sewing group sews hats, lap robes and pillows for cancer patients. These items are distributed to local hospitals. A dozen dedicated members sew at home and meet monthly to sort and prepare bags for delivery.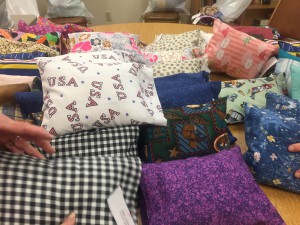 An article on the Sewing group was featured in the March 2009 Mid-County Memo and the Oregonian.
Since Dona Kincade started this group in 2002, we have distributed:
10,000 hats/head coverings
2,242 small pillows
453 lap robes
Questions?
Contact Judy Wilson (503) 255-1915 who would love to share with you about this great ministry to our community!
Donations of fabrics, and polyester fiberfill or batting are always welcome!